AT&T's Dividend Profile and Business Evolution
Founded in 1983 as SBC Communications (the company bought AT&T in 2005 and adopted the more famous moniker), AT&T (T) is a telecom and media conglomerate that, after closing on its $85 billion acquisition of Time Warner in June 2018, operates four business segments:


Communications (79% of revenue, 75% of segment profits): provides wireless and wireline (phone and internet) services to consumers and businesses, as well as paid video (streaming, U-verse, DirecTV).
WarnerMedia (18% of revenue, 23% of segment profits): consists of all Time Warner assets, including Turner Cable TV channels, HBO, and Warner Brothers studios.
Latin America (4% of revenue, -2% of segment profits): offers mobile services and satellite TV subscriptions throughout Latin America.
Xandr (1% of revenue, 3% of segment profit): AT&T's new data analytics and advertising business.
AT&T's biggest and most important business continues to be its Communications segment, where its status as America's second largest mobile services provider generates about 50% of its total cash flow.
The content-rich WarnerMedia segment carries higher margins (31% operating margin) and enjoys faster revenue growth (mid-single-digits), and the most profitable segment of all, Xandr, generates 75% operating margins due to being such a capital light business model.
AT&T has raised its dividend for 35 consecutive years, making it a dividend aristocrat.
Business Analysis
The key to AT&T's ability to generate such high and growing dividends for more than 30 consecutive years is the wide moat created by the extremely capital intensive nature of the industries in which it operates.
For example, between 2012 and 2018 AT&T spent more than $150 billion on maintaining, upgrading, and expanding its networks, including over $20 billion in 2018 (about 13% of revenue).
Few other companies can afford to compete with AT&T on a national scale. Only Verizon (VZ), T-Mobile, and to a lesser extent Sprint (S) have the resources to operate networks that offer similar levels of connectivity.
In fact, T-Mobile and Sprint are now attempting to merge, telling regulators that a key reason for their desired marriage is that they can't effectively compete in this high-cost industry without becoming a much larger company.
That's partially due to the fact that with 5G standards being set in 2019, the Federal Communications Commission expects that over the next 10 years the telecom industry will need to invest about $280 billion to America's 5G network. AT&T's share of that spending would likely be approximately 33%, or about $9 billion per year in additional annual capex just to roll out its 5G network (which it's starting to do now).
To make matters even more challenging for new competitors, most of AT&T's markets are very mature. The number of total subscribers is simply not growing much.
Meanwhile, in the pay-TV industry the rise of cheaper, more flexible streaming services has decimated traditional satellite and cable providers. In fact, the number of cord cutters rose to 33 million in 2018 according to analyst firm eMarketer.
That's 8 million additional cord cutters in the past year, which means smaller companies looking to gain a piece of the traditional TV market would face even greater challenges competing given the industry's (slow) decline.
Simply put, it would be almost impossible for new entrants to accumulate the critical mass of subscribers needed to cover the huge cost of building out a cable, wireless, or satellite network.
In addition to covering network costs, AT&T's scale allows it to invest heavily in marketing and maintain strong purchasing power for equipment and TV content. Smaller players and new entrants are once again at a disadvantage.
Barring a major change in technology, it seems very difficult to uproot AT&T. It's much easier to maintain a large subscriber base in a mature market than it is to build a new base from scratch. Management continues making strategic moves to help ensure that remains the case.
For example, take AT&T's wireless division, which is its most consumer-facing business and generates about 50% of EBITDA. Despite T-Mobile's price war in recent years, AT&T has attempted to maintain market share and stabilize average revenue per user by bundling its wireless services with the TV services offered by DirecTV, which it acquired for $67 billion in 2015.
In 2018, AT&T added to its collection of telecom and entertainment assets when it paid $85 billion to acquire Time Warner, a media powerhouse. Management desired Time Warner's vast content library (Warner Brothers produces over 70 TV series per year, and Turner Broadcasting owns dozens of cable channels), as well as its over 140 million global HBO subscribers.
AT&T plans to leverage Time Warner's content when it launches a three-tiered streaming platform in 2019. Specifically, the firm plans to offer HBO-licensed films, HBO originals, and Warner Bros and Turner content as separate streaming services. Films will be the lowest priced, and each tier that adds more content will be more expensive.
Combining more bundling (to reduce mobile churn and stabilize its pay-TV business) with cost-cutting and more aggressive cross-selling initiatives between its wireless, TV, and content divisions, AT&T believes it can ultimately deliver $2.5 billion in synergies by 2021.
AT&T is also attempting to use its growing content and media segment to turn its new Xandr digital advertising business into a key source of high-margin (75% EBITDA margin) and fast-growing (30+% per year) cash flow. Meanwhile, WarnerMedia is generating about 6.5% annual revenue growth, making it one of the company's fastest-growing and most profitable businesses.
All told, AT&T expects to generate $26 billion in annualized free cash flow in 2019. That should allow AT&T to not just maintain its safe and generous dividend, which consumes about $13 billion each year, but also rapidly deleverage its balance sheet.
The Time Warner acquisition gave AT&T the highest corporate debt load in America and is a major concern for credit rating agencies who have downgraded the company to BBB (two notches above junk bond status).
In late November 2018, CEO Randall Stephenson reiterated how focused AT&T is on reducing its leverage at an investor conference:
"If you hear nothing else this afternoon, I want you to hear me on this. Our discretionary cash flow is going to go to one place. It's going to be paying down debt. We took on debt to do the Time Warner deal. We told you when we announced the deal, it would take a little over a year to get the debt back to more comfortable levels."

He also said the company has a number of initiatives and asset sales in the pipeline for 2019 to help get leverage down to 2.5x exiting 2019. Importantly, AT&T expects to hit its leverage target even in light of any lumpy capital outlays such as spectrum for 5G. As leverage falls, AT&T's dividend safety will improve.
By 2022 management expects the firm's net debt / EBITDA ratio to reach its historical level of about 1.6x. Rapid deleveraging is important because AT&T is going to need to spend a lot on 5G expansion to maintain its moat in wireless, which remains its most stable source of recurring cash flow (and supports its dividend). By mid-2019 AT&T expects its 5G evolution network (in between true 5G and 4G LTE) to be available nationwide.
For 2019 management expects to invest a record $23 billion to grow its businesses and expects that, along with WarnerMedia's faster growth rate and some stabilization in its challenged DirecTV division, the company should deliver low single-digit growth in adjusted earnings per share.
Stabilizing its Entertainment business, which includes the struggling DirecTV satellite business, will be key to AT&T's ability to maintain and grow its earnings going forward.
Cost reductions, broadband growth, and smarter pricing and promotions are all expected to contribute meaningfully to the company's efforts to hold steady this division's cash flow in 2019.
If successful, those results would mark a major improvement compared to the double-digit decline in EBITDA this division suffered in 2018. AT&T's breathing room would also increase, taking some of the performance pressure off of its other businesses.
Of course, there are plenty of reasons to be skeptical of management's ability to deliver those results. Cord cutting shows no signs of slowing down, and the company is still very much trying to figure out how to run a fast-growing yet profitable streaming service.
However, stepping back, investors must realize that this challenged segment is only one part of AT&T's business, despite all the attention it gets.
In fact, the Entertainment Group which houses DirecTV is only 15% of AT&T's total adjusted EBITDA. Its Mobility business accounts for close to half of cash flow and continues plodding ahead with low single-digit growth. WarnerMedia is humming along with mid-single-digit revenue growth, and Business Wireline remains a fairly steady cash cow.
In other words, AT&T's well-diversified operations are helping the company hold its ground, deleverage, and pay a generous dividend while the Entertainment Group's struggles are addressed.
In the long term, analysts currently expect AT&T's earnings per share and free cash flow to grow at a mid-single-digit annual rate. In theory, that would allow the company's dividend growth to one day accelerate a bit higher from its recent 2% rate. However, management needs to prioritize deleveraging over more significant dividend growth for the foreseeable future.
Overall, AT&T seems like a business that will remain relevant for many years. The firm enjoys a solid economic moat due to its ability to provide customers with their video, data, content, and communication needs anytime, anywhere, and on any device. Few companies have the financial firepower and brand strength to effectively compete.
However, the telecom and media industries, as well as consumer preferences, are constantly evolving, making incremental earnings growth more challenging for the large incumbents.
Key Risks
While AT&T has historically been a relatively low-risk stock, there are nonetheless several major risks to be aware of.
Domestically, AT&T's organic growth has basically stalled because of the saturated nature of the markets it operates in.
On the wireless side, smartphone saturation and the rise of T-Mobile have intensified competition for existing subscribers. The major players have been forced to offer unlimited data plans to maintain their subscriber bases, losing out on lucrative data overage fees.
Thanks to the price wars T-Mobile kicked off, AT&T has struggled with being able to raise its prices on post-paid mobile subscribers. While it appears that price stabilization is finally occurring, the risk is that if T-Mobile and Sprint merge, they will become an equal to AT&T and Verizon (VZ) overnight.
While it's unlikely that the new T-Mobile would once more begin slashing prices (due to the need to fund its own 5G rollout), that company's historical desire to win market share at the expense of margins might keep a lid on U.S. mobile pricing, including for 5G offerings.
T-Mobile CEO John Legere has said that if the merger is approved, then T-Mobile plans to challenge not just AT&T and Verizon in 5G mobile but also become a dominant player in internet: "I plan for the New T-Mobile to be the country's fourth largest in-home [internet service provider] by 2024, freeing millions from the likes of Comcast and Charter in the process!"
So while 5G is a potentially significant growth driver for AT&T (especially via the internet of things), it also represents a risk that its traditional businesses such as broadband could further be disrupted. Simply put, T-Mobile's pricing pressure might make AT&T's returns on 5G investments lower than it enjoyed in the current 4G era. Only time will tell.
Another concern is the issue of cord cutting which has bedeviled AT&T for years. According to Craig Moffett, an industry analyst for Moffett Nathanson LLC, DirecTV is now probably only worth about half what AT&T paid for it.
The rise of over-the-top streaming services is a major reason why DirecTV is losing about 350,000 subscribers per month (off a base of 23 million). As you can see below, around half of the U.S. population now utilizes video streaming services each month.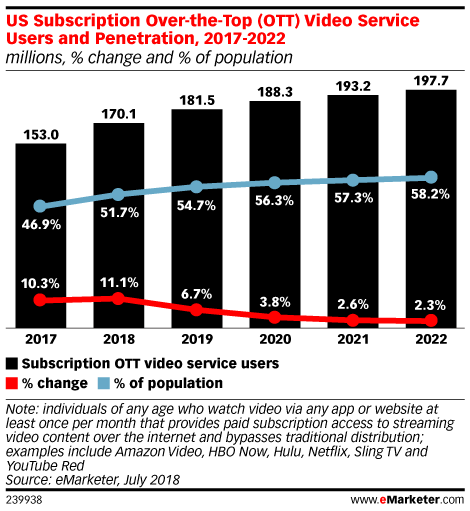 While true that streaming or over-the-top services are a potential way for AT&T to stabilize its own pay-TV subscriber base (management hopes to hold its subscriber base stable at 25 million in 2019), keep in mind that AT&T is going to face massive competition in this business. According to eMarketer, here's how many monthly U.S. viewers current streaming services have.
Netflix (NFLX): 148 million
Amazon Prime Video: 89 million
Hulu: 55 million (60% owned by Disney)
HBO Now (AT&T): 17 million
Sling TV (Dish): 6.8 million

With Time Warner's content under its belt AT&T plans to launch a new streaming offering in 2019. However, that service will be competing with Disney (DIS) Plus, which will not just offer exclusive Disney content (movies and TV shows), but also new original Marvel live action TV shows with movie-level budgets that will include actors from the films. Competition is fierce as consumers will only spend so much to access content.

Simply put, AT&T's big bet on buying Time Warner was that content is king and the key to growth in pay-TV services. However, today there are over a dozen major streaming options, with more on the way from major rivals. As a result, it may be more difficult than management expects to deliver on AT&T's long-term growth plans with its new media business.

Investors should monitor the company's progress here closely to ensure it doesn't prevent AT&T's overall earnings and free cash flow from moderately growing.

After all, AT&T's management doesn't exactly have a solid track record of wise capital allocation decisions. The firm's return on invested capital has fallen from 15% in 2013 (among the highest in the industry) to just 6% in the past year (among the lowest).

That erosion has largely been due to management overpaying for DirecTV (just as its business was peaking), ponying up for Time Warner, and acquiring two Mexican wireless companies plus a lot of wireless spectrum.

Ultimately this calls into question whether or not CEO Randall Stephenson (in charge for 11 years) will be able to turnaround his questionable track record of debt-fueled empire-building.

Given the firm's stretched balance sheet and sizable dividend, it's critical that AT&T is able to leverage its various telecom and media assets to deliver moderately growing free cash flow in the years ahead. AT&T's dividend appears to remain secure for now, but its free cash flow generation in the quarters ahead needs to be watched to make sure management's plans are indeed playing out as expected.

Closing Thoughts on AT&T
AT&T has taken a number of bold steps in recent years to proactively take on changing industry conditions across wireless, video, and media markets.

It will probably take at least several years to determine just how savvy these massive capital allocation bets actually are. For now, AT&T remains a mature cash cow that is a reliable source of income over at least the short to medium term.

However, any dividend investor considering AT&T must understand and accept the risks that come with the company's massive debt levels and complex merger integration work as its business strategy evolves.

Between AT&T's sluggish growth in wireless postpaid subscribers and recent DirecTV satellite subscriber losses, there are certainly a few signs that the company's bundling strategy and large-scale expansion into pay-TV may not be living up to expectations. That's especially true since streaming keeps getting more competitive with Disney (post-Fox acquisition) now owning 60% of Hulu and launching its own standalone product in 2019.


While AT&T's dividend appears to remain safe, the company could struggle to achieve the kind of growth rates investors have enjoyed in the past. Thus anyone owning this stock needs to not just be aware of its risk profile, but also have realistically low dividend growth expectations (2% per year for the foreseeable future).